November 16-28, 2015
San Francisco, California USA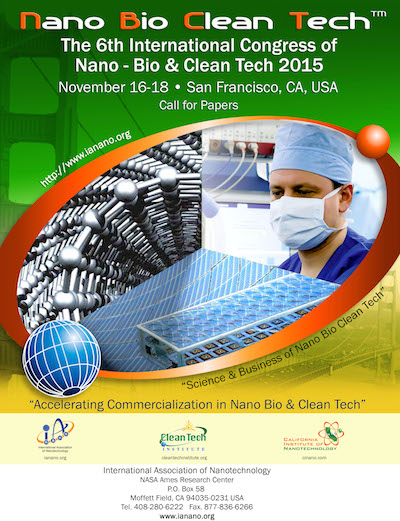 Preliminary Announcement

International Association of Nanotechnology is pleased to sponsor the upcoming International Congress of Nano Bio Cleantech 2015, which is a premier international gathering of researchers, scientists, and business executives interested in the frontier of the technical and business development in the converging of Nanotechnology, Biotech and Cleantech industry.
TOPICS:
Nanomaterials
Nanoparticles
Carbon Nanotubes
Nanodevices
Nanoelectronics
Nanofabrication
MEMS & NEMS
Nanobiotechnology
Nano scale characterization
Standards & Nomenclature
Nano Tools
Molecular Engineering
Nano Manufacturing
Nanoparticles Toxicology
Heath Safety Implications
Renewable Energy
Biofuels
Thin Film Photovoltaic
Hydrogen Fuel Cells
Nano-composite for Electric Car
Electric Vehicle Technology
Advanced Nano Battery Technology
Ultra-Capacitors
Nanostructured Systems
Sustainable Energy Public Policy
Intellectual Property
Commercialization
Venture capital investment
Other related topics
For more information, please visit the official website of the International Congress of Nano Bio Cleantech 2015:
PAST EVENTS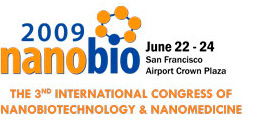 The 3rd International Congress of Nanobio & Nanomedicine
June 22-24, 2009
San Francisco Airport Crowne Plaza
Featuring: Nobel Laureate Prof. Douglas D. Osheroff
And other speakers who spoke on the following topics:
Nanomaterials, Nanoparticles, Nanodevices, Nanoelectronics, Nanobiotechnology, Nanomedicine, Nano scale characterization, Nano Tools, Nanoscale medical imaging, Medical diagnostics, Nanoparticles Toxicology, Heath Safety Implications, Intellectual Property, Commercialization, Venture capital investment, and other related topics, Intellectual Property and Technology Transfer, Education & Workforce Training, Societal & Environmental Impacts, and Capital Funding and Grants for Start-up Ventures
For more information, please visit the web site of our partner: http://www.ianano.org

Clean Tech Innovation & Growth 2009
March 3-4, 2009
Our Corporate Offices
290 Parkmoor Avenue, San Jose, CA 95126
The Clean Tech Innovation & Growth 2009 featured leading policy makers, venture capitalists, industry leaders, energy experts, and educators in the field of Clean Tech. Lectures and panel discussions on:
Public Policy and Regulations, Infrastructure Development, Best Practice, Codes, and Standards, Commercialization and Applications, Investment Opportunities and Challenges, Education and Workforce Training, Photovoltaic & Fuel Cells, Concentrating Solar Power, Wind Energy, and Electric Vehicles
For more information, please visit the web site of our partner: http://www.cleantechinstitute.org
The Emerging Technology Investment Forum 2008
January 24, 2008
Our Corporate Headquarters:
1290 Parkmoor Avenue, San Jose, CA 95126
Thanks to our speakers, presenters and participants, the Emerging Tech Investment Forum was a great success.
The Investment Forum 2008 featured leading venture capitalists and start-up and high growth companies in the emerging field of Nano Bio Clean Tech. The Forum will help to facilitate the meeting between entrepreneurs and venture capitalists and corporate investors in high growth industries.
The Investment Forum was held in conjunction with our Professional Training in Nanotech & Clean Tech, offering 12 high level executive workshops focusing on strategic thinking, latest marketing research and state-of-the-art technology and business concepts as well as valuable networking opportunity with this emerging industry.